Working with numerous local partners, FEBC and Feba's work has enabled life-giving media to be brought to communities in many African countries. We have exciting projects and partners in countries such as Sierra Leone, Burundi, Mozambique, Zimbabwe and the Democratic Republic of Congo to name but a few. We also work in areas we can't openly talk about, serving communities where Christians are marginalised. The Persecuted Church is a major focus for us in the Horn of Africa.
By broadcasting hope to marginalised believers or broadcasting important information about disease prevention, health, wellbeing and severe weather warnings, lives are transformed using media.
Getting to know: Farida – Station Manager, Radio Wimbe. Pemba, Mozambique.
Discussing her first year as Station Manager, Farida shares about the station she now runs, her experience, faith, family and how God is using Radio Wimbe for community transformation.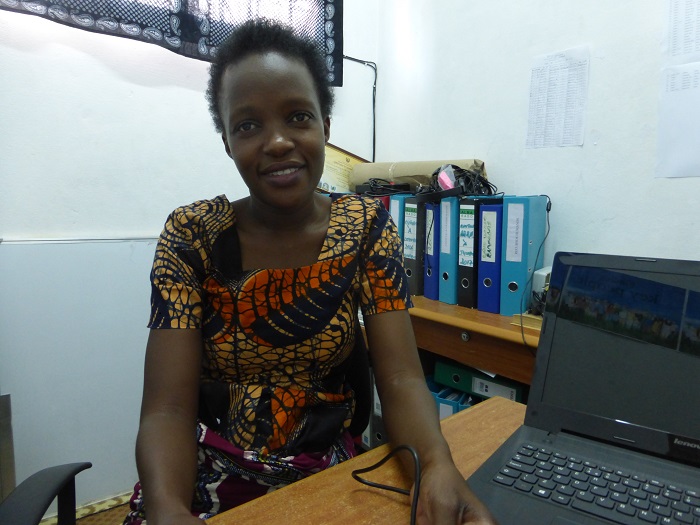 On how she came across Radio Wimbe:
Before I started working at the radio, I knew about it because of a funny coincidence. Before the station properly started, it didn't have any presenters and just played music. Pastor [Narciso] Zandamela needed three recordings in local languages to give out the telephone number of the radio station, and he came to my church and I was asked to do the recording in Makonde language. So I did the recording in the Makonde language and never thought I would work for the radio. I then started listening to Radio Wimbe.
After studying accountancy at technical school and university, Farida worked in a construction consultancy before being asked to assist with the bookkeeping at Radio Wimbe. Soon she was working for the station:
I helped organise the accounts in my spare time. Then I stayed! To lead this project is a big challenge; it is not easy, but when we have faith in God, everything is easy. He helps us. It's not my intelligence or my strength. The word of God gives me guidance.
I really like working in radio and everyday I am learning. We make people feel valued and I like to do this.
When I went to Indonesia a person said something I will never forget (she said this in English), "With God, all things are possible". With this in mind, I know I will succeed.
How Radio Wimbe is unique in Pemba:
Radio Wimbe is very important here because there does not exist any other radio that does what Radio Wimbe does. We work differently. God is meeting people through the radio. The radio is in the right place here in Pemba. Pemba needs this…things are changing. The radio is part of this change.
I believe many people find peace because of this radio. Many who didn't know peace or were unhappy now are happy because of Radio Wimbe. The people here don't have money or material things, but we give them satisfaction in their hearts. Programmes, gospel music, the word of God – it satisfies their hearts.
On radio being able to speak, hear and love its listeners:
What us humans like, is to be heard. We like someone to listen to our problems…So the radio listens and gives advice on how to resolve these problems. All this is treated in a way that transmits love. And the listeners come to know that God loves them. They might not know God, but through the radio they know that God loves them. For this reason, the radio is very important for our community.
On her family:
I am married, I have four children, My husband is called Mussa. We have been together for 19 years. With live in Pemba with our children. My children like my work, they like it a lot. They are proud of their mother.
Farida's requests for prayer:
Please pray for me that I continue to be a strong woman and the love of God is always with me. Pray also for my family, my children. That we are a happy family.
Pray for the radio, please pray for the presenters. They are very important for this to work. It is not me as the leader, the presenters are the ones that lead with the listeners, they lead the programmes. They need our prayers. They need the love of God – without God they will not be successful. Please pray for them.