About the Family and For the Family
Wiens started work on getting a station in Kazakhstan first, it being the largest country, when, "out of the blue we got an offer to obtain an FM station in Bishkek, Kyrgyzstan," says Rudi. The station in Kazakhstan was established in 2005, and a new station in Kyrgyzstan, largely supported by Australia, began in May 2012.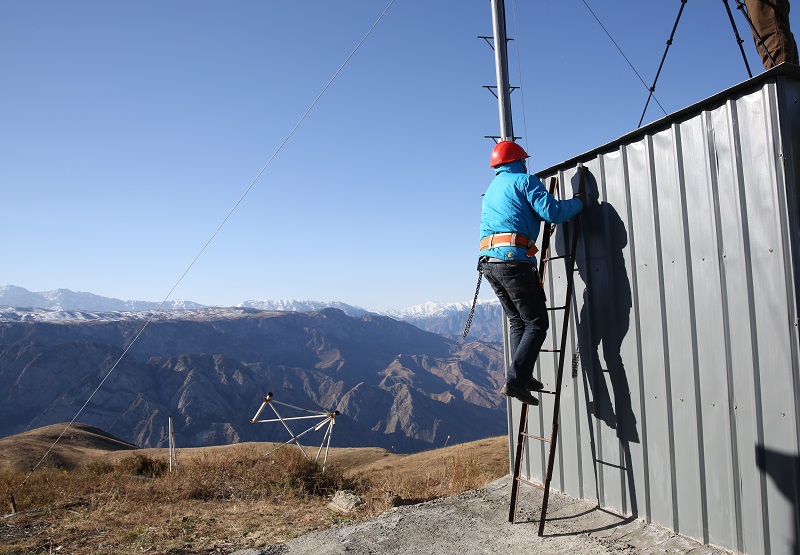 Rudi splits his time between working in La Mirada, CA, at FEBC's headquarters, fundraising in Germany, and traveling to Central Asia to supervise developments in Kyrgyzstan and Kazakhstan. Similar to the programs broadcasted in Russia overseen by Victor Akhterov, FEBC's broadcasts in Central Asia address social issues through the lens of the Gospel.
"We reason about healthy families, of course with scripture and Christ," says Rudi, "We have lots to offer there, about relationships, marriages, raising kids." Rudi explains that these social relationships are the main avenues to share the Gospel over radio. As a result of the positive effects that FEBC's broadcasts have on people in the two countries, both governments are in favour of the initiatives of FEBC and their broadcasts, which operate under the slogan "About the family and for the family."
Religious Extremism & Finding Good Communicators
Opposition to Christianity is less from the government and more from extreme religious groups, mainly Islamic, which the government is also opposed to.
"The laws written against religion in general in Kazakhstan," Rudi says, "are from extreme, almost militant religions that also end up affecting FEBC."
The biggest challenge in Kyrgyzstan, where FEBC has been able to expand more rapidly, is to find great, local communicators. Rudi describes the Kyrgyz church as a first-generation church.
"There were a few believers prior to the 90s, but not very many," he says. Now there is a small contingent that have become followers of Christ in the late 90s. This new generation of Christians creates a dilemma for finding believers who are mature enough in their faith to produce local Gospel broadcasts that are true to scripture and theologically sound.
The Leaders of FEBC in Kazakhstan and Kyrgyzstan
Nurlan Kananbaev, is the National Director of FEBC-Kazakhstan. In the mid-90s he lost meaning in life, turned to alcohol, and nearly lost his family. In desperation, Nurlan saw a hotline which connected him with a Christian Kazakh woman who talked to him about Issa (Jesus).
'Pastor Nurlan' stopped drinking, reconciled with his wife and his son, and had two more daughters. After attending a local Bible school in Kazakhstan, Nurlan met Rudi, who was able to connect him with FEBC, and he now provides sermons online for local believers.
Ulaanbek used to be the head of the National Television division in Kyrgyzstan. After becoming a believer, he started to speak his beliefs on air more freely. This got him in trouble with the new government – which frequently was changing hands, due to multiple revolutions – which asked him to be quiet, or leave. Now in the States, he has a strong vision to share the Gospel.
Enthusiastic about the proposal from Rudi to do a talk show in Kyrgyz, Ulaanbek is still unable to broadcast and return, due to his alienated political status. However, Ulaanbek's brother now is the station chief in Kyrgyzstan for FEBC.
Prayer requests:
 Please pray for Rudi, who oversees FEBC's ministry in Central Asia. Pray that God will bless our programs in Kazakhstan and Kyrgyzstan, so that many Muslim listeners will come to understand Jesus was more than a prophet, but Lord and Saviour, who died to give them eternal life.
Please pray for the raising up of local communicators in the countries of Kazakhstan and Kyrgyzstan, who are able to produce content in the local languages.
Pray too for many overcoming the terrible alcoholism that plagues all of the former Soviet Union, including Kyrgyzstan and Kazakhstan.
Give thanks for the transformed lives of listeners and their communities, helped by what they have heard on the radio.
Pray for an increasing number of listeners to enter into a close and personal relationship with Jesus.
Pray for the continuing freedom from the government to allow FEBC to operate without restrictions based on religion.