Christmas in Iraq? Yes. Christmas has been an official holiday since 2020 and is gaining popularity in this 95.5% Muslim country. In fact, over 80% of the Christian population has fled because of persecution. But the popularity of Christmas is not because of a growing focus on Isa (Jesus). Iraqis commonly call Christmas trees 'New Year Trees' and Santa Claus 'Baba Noel'. Both bear gifts that usher in the new year, not the gift of a Saviour.
Yet peace, hope and joy are what Iraqis are desperate for. The Middle Eastern country has been rocked by bombings, violent militant ISIS occupations, uncertainty, rampant corruption and civil disorder for years. Daily, families face exorbitant fuel prices and sudden electricity cuts (the average family in Bagdad gets only six hours of electricity per day).

To bring restoration and healing, FEBC's partners have been broadcasting the Christian message of love, hope, forgiveness, and peace via community-based Iraq FM. 21 programs, including seven live ones, are produced weekly. Dialogues about social issues such as violence against women and children and anger management support listeners emotionally and mentally. Entertainment programs provide relief from the pressures and problems of society. There are also fun programs for children and Bible stories presented in an interesting way. The station receives 40-50 calls each day from listeners, opening opportunities to share the Gospel.
One listener is a Yezidi, a Kurmanji-speaking minority group shunned by Muslims. ISIS killed and abandoned Yezidi families from Sinjar (the home of the Yezidis in west Mosul) and took their women into captivity. The listener asked in a personal conversation what Christians think of Yezidis, to which the team could share the love of Christ and His salvation for all, including the Yezidis.
Another listener was at the end of his rope. Two years prior he had lost his sight in an accident. Since then, his wife treats him very badly and life has become so difficult. As the radio host prayed with him, he suddenly started shouting to Christ and cried. He said the radio is something different. He has never experienced such love and was touched.
What other listeners say:
"I met God through your Great Teacher program, and today I am the daughter of Christ."
"Your radio program is bold and purposeful. It is the only media in Baghdad that cares a lot about Iraq and its people."
"Thank you for the joy and love you offer in a hostile and backward society."
Did you know

Aramaic, Jesus' mother-tongue was spoken in ancient Assyrian and Babylonian empires, which modern Iraq formed a large part of? And it's still spoken by many Iraqi Christians today!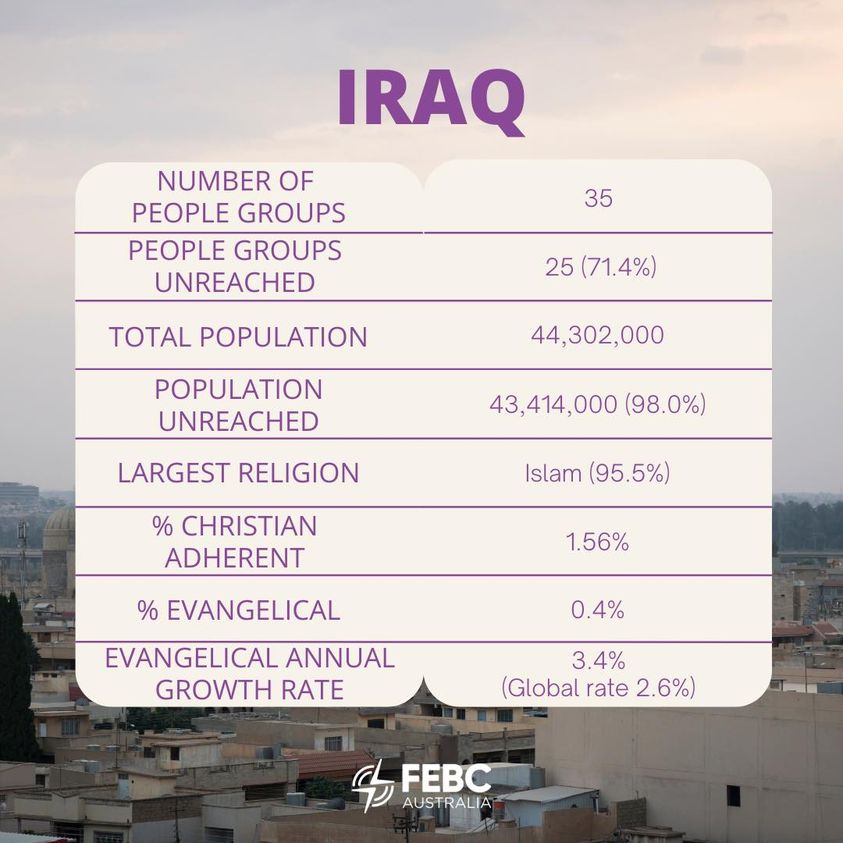 (Cover photo: Christmas decorations in Bagdad, Iraq. Photo ⓒ Rasool Ali)

Help others hear about God's story and find love, hope and peace in Jesus through FEBC. Donate now.