Praise God for the growth and fruit being seen by FEBC Malawi. In 2019, our prayer and focus needs to be on further supporting this ministry to ensure deep roots for the Gospel are established. There are now many hundreds of listener clubs springing up in a country where people are thirsting for Christ.
And with thirst sometimes comes desperation. As Director Amos explains: "We are trying to reach as many listener clubs as we can in one outreach trip, but travel can be long and difficult. In so doing many complain that we are not reaching them in time with the radios and even to just give them a word of encouragement. Having a supply of audio bibles to hand is vital."
The focus has been on creating audio Bibles that teach three or more lessons around scripture that many Yao people are benefiting from including: Male and Female Roles, Healing the Wounded Heart, God's Plan for Each One of Us, New Life to You and Disciples Making Disciples.
Waluza Zalimu was once a Muslim and now he is leading 120 listeners clubs in the area of Sub TA Katema in the west of the Mangochi district. He says: "I am very grateful for what you are doing. Among other things, FEBC Malawi has brought many Yao Muslims men/women to Christ and today in my area there many who are gathering around the radio listening to what our announcers has for us. More importantly, the teachings you have created especially designed for our groups is a tremendous example.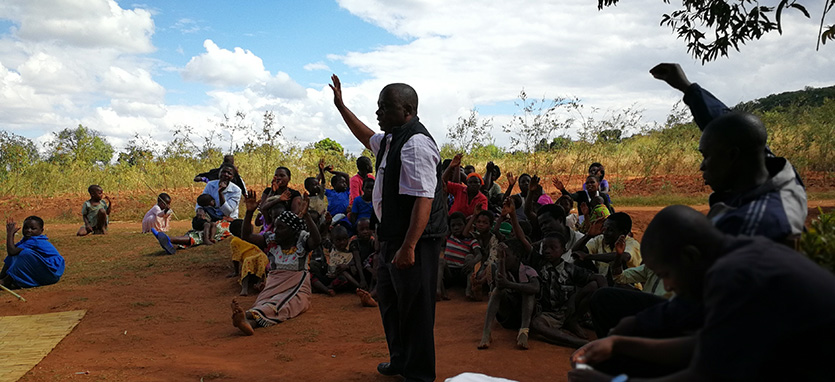 "The Discipleship Making Movement has greatly impacted us here in this remote area and it is gaining the ground. There is a possibility of establishing a church, which the majority of listeners are keen to establish, and there is also a need to have someone closer by to help us all with Bible study.  Please know that your donation of radios and audio bibles to us is not in vain, it is bearing much fruit among the Yao people of Malawi."
The chief of the village Chande also has this to say about the impact of the Gospel: "We the people of Chande warmly welcome the Yao program. Many here used to have more than one wife but today as I am speaking they are living a happy life in their families all because of FEBC Malawi's Way of Life program which has inspired many to join the listening clubs. Please continue helping us."