In a country steeped in Buddhism, God is working in miraculous ways. FEBC has been on the air in the central province of Thailand since April 1st, 2013. After two years on air, people started to become interested in the radio program and in Jesus and began contacting our FEBC team and requesting visits.
In 2015, the team setup a date to visit the listeners in the area. In 2017, we knew there were listeners that accepted Christ as their Lord and Saviour as some of them contacted the local church, telling the pastor that they wanted to accept the Christ that they had heard about through the radio.
In 2018, more people came to Christ and were baptised. At the end of 2018 the team went to meet with the listeners in the province again. They were able to meet with the listeners who had heard about Christ through the radio, and were encouraged by the growth in their spiritual faith. Praise God for the 444 baptisms in a region where FEBC has broadcasted for the past 5 years; and for the thousands of new believers through the work of local churches and missions, harvesting the seeds planted through FEBC broadcasts.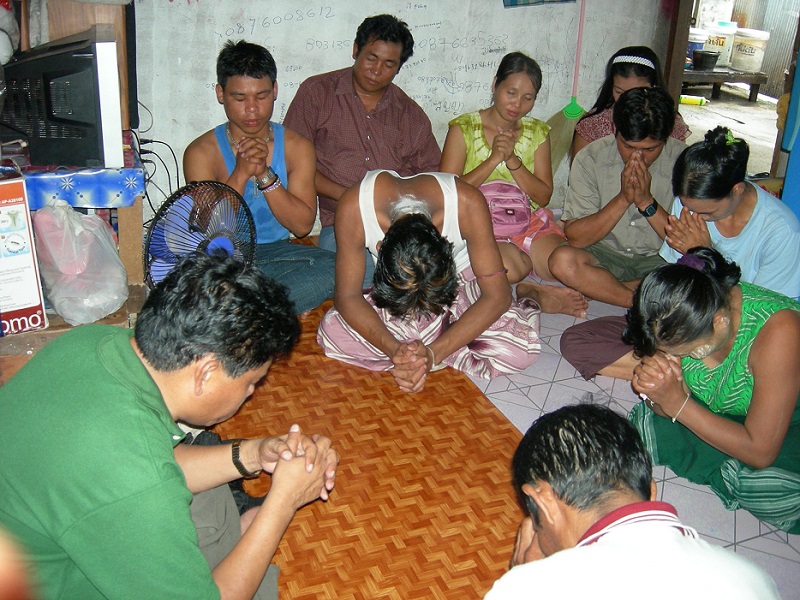 Revival and the role of Discipleship
Where there is revival, there is also a need for churches and discipleship to support new Christians. Praise God for His raising up of women like Miss Pantip, who listens to both Through the Bible and Law for Life programs from FEBC Thailand.
As the church is quite far away, she decided to open her house as a Christian Centre in the village. However, as she is quite new believer, her only source of Bible knowledge is from FEBC's Through the Bible program. She also gets encouragement from Law for Life Program and she always contacts FEBC asking for prayer.
FEBC Thailand also supports new believers with its popular Bible Correspondence Course. They recently heard from a listener in the Chonburi province about his lessons:
"I am very thankful for the lessons you sent and I have studied the Word of God every month. I am also thankful for your introducing me to a church so I can attend. My goal is to finish the Bible Correspondence Course. On the days I feel I have no one, or no-one cares, I know the FEBC team stands beside me and gives me encouragement. They make me feel valued. It is something that I cannot find anywhere else. It is the opposite of where I live. Thank you very much."