FEBC's partner, First Response Radio has one goal: to set up a radio station for the affected community within 72 hours of a disaster. Whether as a result of extreme weather, epidemic or conflict, displaced populations need to be informed, educated and organised if they are to recover – and radio plays a vital part in this process.
This may strike many as counter-intuitive. After all, an overwhelming need to deliver food, water, medicines and shelter in the immediate aftermath can see radio being relegated from a position of 'must-have' to just 'nice-to-have'.
But radio has the potential to play a far more immediate role in emergency response situations. Delivering radios to displaced populations at the earliest opportunity means reconnecting dispersed communities and getting them back on their feet can happen much sooner than is often the case currently.
FEBC Philippines knows this too well, deploying Suitcase in a Radio emergency services when typhoons hit. In 2015, Typhoon Koppu directly affected more than 1.2 million people, with more than 109,000 taking refuge in shelters. 43 people lost their lives. During subsequent emergency response radio training, the team heard stories from listeners and other NGOs who had been impacted by the radio services offered by FEBC and First Response Radio:
---
"Thank you very much for your services through your station. You have given our municipality a shining light in these dark days brought by the calamity. I hope that our heartfelt gratitude is felt thru our smiles while listening to your programs. Thank you."
Municipal Mayor Reynaldo T. Bitong of Casiguran, Aurora.
"When I started as a humanitarian worker, my idea of aid was food, shelter and hygiene kits. But as my experience widened, I have come to understand information is as vital as food or any other aid distributed to people. The reality of people's need for information struck me as one important need that should not be neglected. There has to be information – appropriate, timely and life-saving. There has to be a format or a tool where people's voices can be heard, where people can hear what they need to know to help them survive, where people can understand the information so it can help them and where people can listen and be listened to. It made me realise the importance of radio as an effective platform and format for providing communities with life-saving information at all times. It is basic, it is reliable, it is cost effective and it has a wide reach."
Aivon Guanco, Accountability Manager of World Vision Foundation Philippines, a partner organisation on the ground helping FEBC Philippines distribute radios during FRR deployment.
---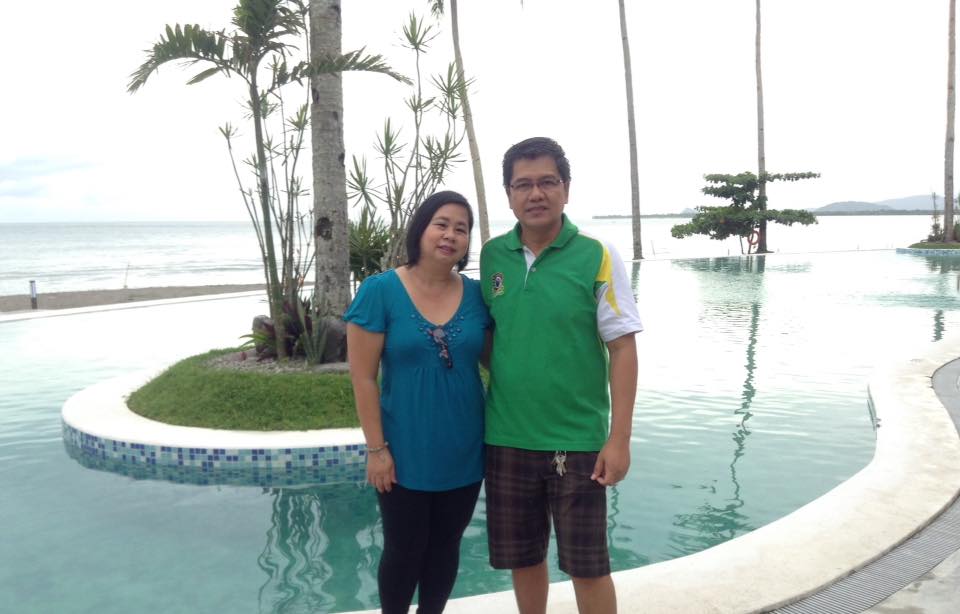 ---
Pastor Edwin Espina and his wife Dorothy, who serve in Tacloban Bible Community Church, Philippines.
Two survivors of Typhoon Yolanda were ministered to by FEBC Philippines and FRR in 2013, and were excited to meet the FEBC Philippines team in person. Pastor Edwin Espina and his wife Dorothy almost lost their home during typhoon Yolanda. At the time, Edwin went to the temporary radio station at the top of the Tacloban City Hall, asked for a solar powered radio then went home and gave it to his wife.
As a pastor, Edwin continued to help in their church relief operations while Dorothy and their three children were left cleaning their house. At night when he was unable to go home, Dorothy said she continued listening to FEBC Philippines via First Response Radio and, "tears would freely flow from my eyes because I knew God was with me and the voice from the radio was a testimony that I was not alone, that our family was not alone until they could recover and live to a new normal after Yolanda."
Dorothy cried upon meeting Magnolia Yrasuegui, our FEBC presenter, in person. She recognised her voice and told the FEBC team how she has been encouraged and excited to clean up their house and help her husband rebuild their lives and their family through the voice on the radio.
Praise God for how First Response Radio can become a companion to families such as these during tough times. Please pray for the Philippines over these next months as most tropical cyclones typically develop between May and October.