Rev. John and Heather Lance are a humble couple who were uneasy having their photo taken for this story. Supporting FEBC Australia for over a decade they embody Matthew 6:3: when you do something for somebody else, don't call attention to it.
As a young minister, John was always drawn to mission. When he met his wife-to-be, Heather, he knew she was a Christian nurse. "She had this wonderful nursing ministry, so she wondered about marrying a minister."
But Heather also shared his heart for mission: "When I was a young girl, before I met John, I applied to be a missionary. I was knocked back on medical grounds but my heart has always remained for missions. I loved my nursing ministry, but I loved John more!"
Once married, the couple ministered to many in Australia through churches in the Sydney diocese. Yet their heart for overseas mission remained. How to minister in Australia and still reach the hardest-to-reach overseas?
"I always thought we've heard the Gospel so many times here, but others haven't even heard it once!" said John.
They chose to support FEBC's media mission using radio and internet to inspire people to follow Jesus Christ. The simplicity and reach of the international organisation – more than 50 countries, in 130 different languages, for 2500+ hours a day – met John and Heather's desire to reach and help people overseas despite 'staying put' in Australia.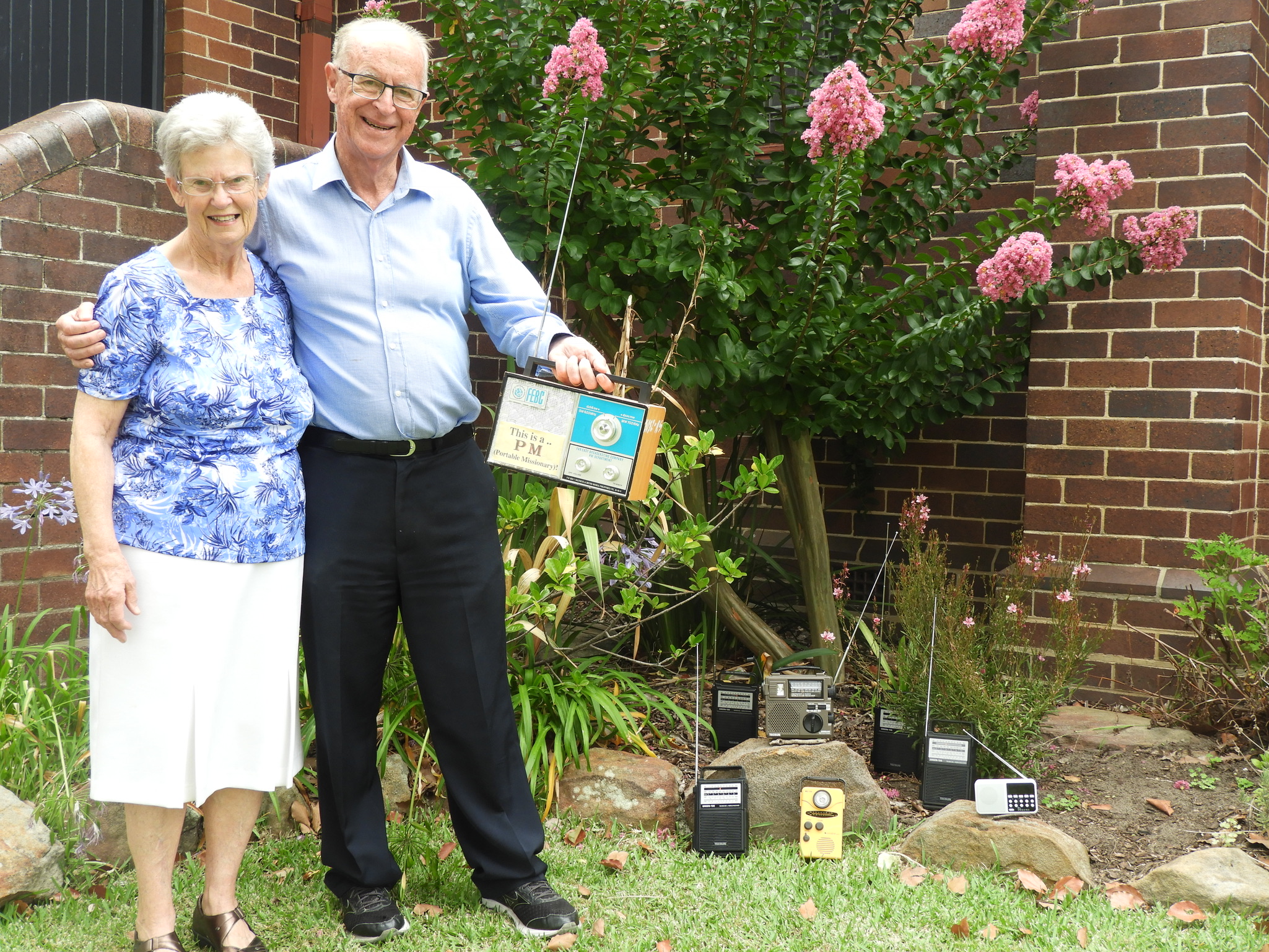 "I love how FEBC reaches people by radio that our missionaries can't even get to in person," says Heather. After ten years of support, you can still hear the excitement in their voices. John's face, as he explains FEBC's radio reach, is a picture of amazement.
"Those radios get out there, they don't have to learn the language, they don't – like so many relocating missionaries – have to figure out a hot climate, or a culture. Programmers are local Christians so they understand the need of the community. Plus, you put a radio there and people gather around it! They get to listen to the Gospel in their heart language – and people gather as a community to hear it!" he marvels.
Cost-effective mission with impact

$15 dollars keeps FEBC on air fifteen minutes – in which time hundreds of thousands of people can be reached.
It is the regularity, the security of knowing a friendly voice coming daily on air that is part of radio's impact. Listeners say it feels like the programmer is in the same room or car with them, and that brings comfort, encouragement and more.
Even when the programmer isn't speaking, listeners feel aware that other people they know are listening and experiencing the same thing as they are. This is reported by FEBC's persecuted listeners in Yemen, or the refugees from Iran, or even those suffering after war in Ukraine.
Victor Akhterov, Director of FEBC Russia, shared the story of a talkback call from a distressed single mother of an additional needs child.
"Where is this caring God of which you speak? Where is He in my life?" she asked angrily on-air. Then, praise God, the switchboard lit up. "Call after call came in from people offering to share the babysitting load," said Victor. "One woman lived nearby, had her own additional-needs child, and they worked out how to share the caring burden so money could be earnt."
The more we can be on air, the more frequently we can share FEBC's friendly voices on radio, meaning many more relationships are built and more people come to know and love Jesus.
Join FEBC Frequency and head overseas
In 2017, FEBC 'took' its Frequency partners to Russia, Ukraine, Mongolia, India and Malawi via webinar. Bi-monthly, Frequency Partners met with Victor, Bat, Kenneth and Amos, the directors from those respective countries, and asked questions directly.
We are currently planning a March webinar with the team running FEBC's Farsi radio ministry for refugees in Indonesia, Germany, Turkey, Iran, Afghanistan, Thailand, and Malaysia.
Be encouraged by what God is doing through radio. Become an FEBC Frequency Partner for a $1 a day at http://febc.org.au/frequency/. We would love to take you closer to FEBC's work live around the world.