Think of freedom and most likely the image of someone being able to move without restraint comes to mind. But the prisoners in Thailand are experiencing a freedom like no other.
Thai prisons are no walk in the park. Thailand has the biggest prison population in Southeast Asia. Spartan jail cells are severely overcrowded and conditions are below international standards. Not surprisingly, COVID clusters broke out in the prisons during the height of the pandemic. There are also reports of labour exploitation of prisoners, whereby inmates are given threats of beatings or no wash. You can almost say it is a living hell — except, of course, hell is much worse.
Yet out of this pit of darkness, a movement of hope is gaining ground, and quickly. More than 25,000 listeners in Thailand are enrolled in FEBC's Bible Correspondence Course (BCC), many of whom are prisoners serving time all over Thailand. The course is an 18 lesson Bible Study, with real life application. On-air programmes provide extra content, and regularly promote the Bible Correspondence Course (BCC) as an ideal way to learn more about God, Christianity, and eternal life. Around 1000 people enrol each year.
Having young women participate publicly in this on-air competition is significant. Pakistan is a largely Muslim patriarchal society. A 2020 UN report finds that 48 percent of young women aged 15-24 are not in education — 28 percent of whom would have been married before the age of 18. 15 percent of young women experienced physical abuse, and 44 percent of young married women and men see no harm in wife-beating. The need for change is dire.

But FEBA Pakistan is helping to change the tide. Through radio and in-person seminars imparting biblical truths, FEBA Pakistan has been setting women free to pursue their God-given potential.

"By the grace of God, we are connecting with youth, men, women, and families through these broadcasts. We are supporting them through our community development programs, including COVID safety training, health and hygiene, education, and women empowerment," shares Saleem, National Director of FEBA Pakistan.
A long-standing listener agrees. "FM programs broadcast by FEBA are playing a pivotal role in community development. Program 'Syban', in particular, is holding us together in developing and uplifting all communities living in Muzaffarabad and surrounding areas".
And thanks to the generous support of local partners in Australia, more now have access to this life-giving truth. Additional radio sets and literature were distributed to listeners within the country.
In a nation where 88.7% of the population are Buddhists, many of the students are also Buddhists, or were Buddhists when they began the course. The Buddhist worldview is one of an endless cycle of birth and rebirth into the suffering on earth, with the need to constantly accrue merit or receive karma. It is heavy bondage. Through the BCC, the truth of Christ has set many free from this bondage. Some are even leading small groups in their prison! The hope they have received and the joy that they carry from God are simply infectious!
Prisoner testimonies:
"Having learned the lessons from your Bible Correspondence Course, it made me realize and understand that Jesus took the punishment in place of me. He made me free now. I believe and accept Jesus as my Saviour with all my heart. Dear Jesus, I invite You to come and be imprinted in my heart and give me eternal life. Lord, with your help, I will live for you. Thank God for the salvation of my soul." – Mr. P., prisoner in Nakhon Ratchasima Province
"I'm now happy, and I'm willing to share my experience. When I first entered the cell, I suffered terribly. But when I met God here, I have a lot of hope in my life." – Mr. W., prisoner in Nakhon Ratchasima Province
"Thank you for sending me a good and easy-to-understand lesson about the Lord Jesus Christ. It is more valuable than anything. Due to COVID, everyone faces various problems, including my relatives at home. I miss and worry about them. Now I have made an application for the suspension of punishment, and it's approved. I'm going to live outside and serve God." – Mr. C., prisoner in Ratchaburi Province
Mr S. recently wrote: "We the church of Bang Kwang Prison send our love, encouragement, and peace that we share in the Lord Jesus Christ, to you, our teachers and all the FEBC team. May God bless you and your families." (Bang Kwang Prison is the infamous 'death row' prison or otherwise nicknamed 'Bangkok Hilton'.)
Thailand Demographics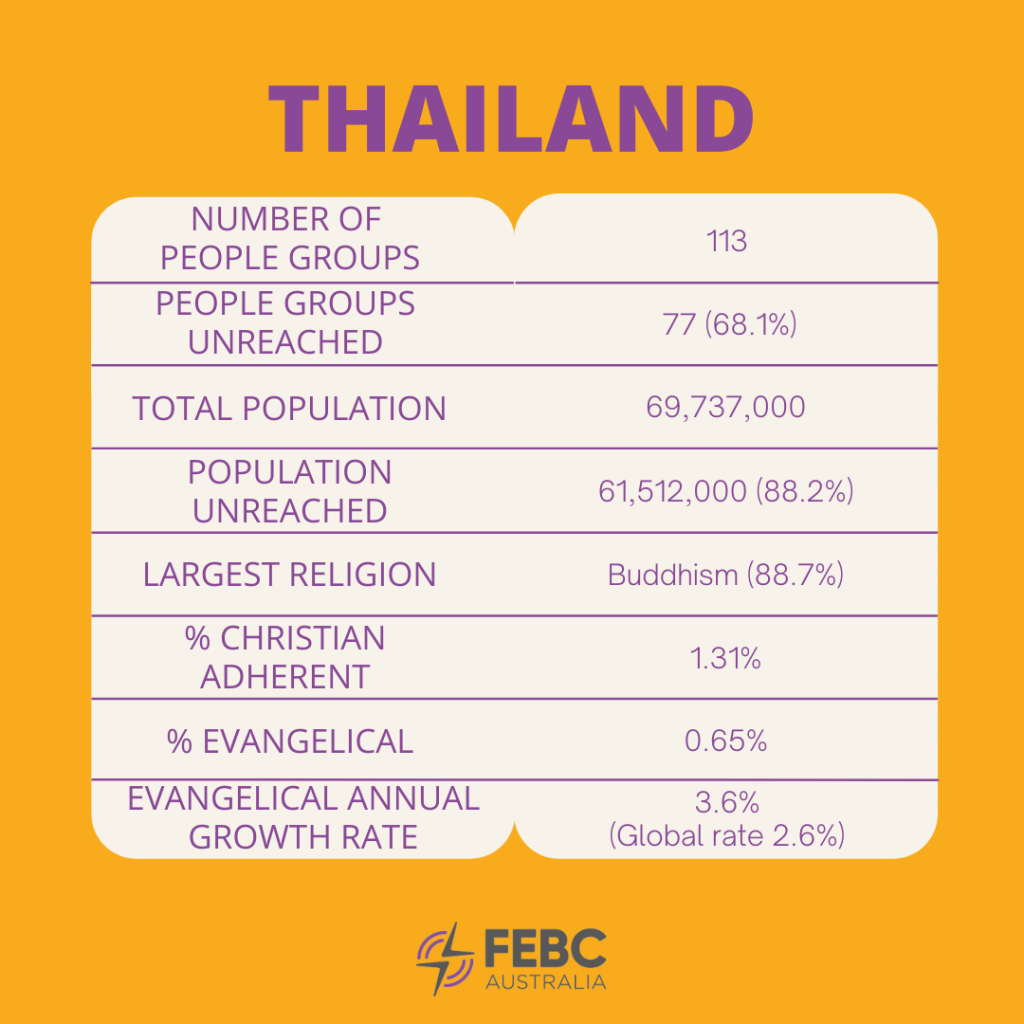 Click here to access FEBC Thailand's radio programs.
Partner with God through FEBC. Donate now.