In the Muzaffarabad district in Pakistan, singing voices echo across the airwaves in the region. For the local FM partner radio station, this has been an amazing witness to the local population in the towns that tune in regularly to hear God's message of truth.
'Syban', the radio program hosted by FEBA Pakistan, was recently featured in the national newspaper for connecting with local students, particularly young women, in a nationally broadcasted singing competition. Three different schools participated on-air.
Having young women participate publicly in this on-air competition is significant. Pakistan is a largely Muslim patriarchal society. A 2020 UN report finds that 48 percent of young women aged 15-24 are not in education — 28 percent of whom would have been married before the age of 18. 15 percent of young women experienced physical abuse, and 44 percent of young married women and men see no harm in wife-beating. The need for change is dire.

But FEBA Pakistan is helping to change the tide. Through radio and in-person seminars imparting biblical truths, FEBA Pakistan has been setting women free to pursue their God-given potential.

"By the grace of God, we are connecting with youth, men, women, and families through these broadcasts. We are supporting them through our community development programs, including COVID safety training, health and hygiene, education, and women empowerment," shares Saleem, National Director of FEBA Pakistan.
A long-standing listener agrees. "FM programs broadcast by FEBA are playing a pivotal role in community development. Program 'Syban', in particular, is holding us together in developing and uplifting all communities living in Muzaffarabad and surrounding areas".
And thanks to the generous support of local partners in Australia, more now have access to this life-giving truth. Additional radio sets and literature were distributed to listeners within the country.
FEBC's partner has also been actively improving the health and education of marginalized, voiceless communities by amplifying their voices through community media, supported by off-air activities.

One such activity is a workshop on women's hygiene, with a free check-up and medicine available in a village. Most of these villagers are poor and can't afford long-distance travel to get medical care. Health and hygiene are some of the most pressing issues the villagers face. With little or no education, women are the most marginalized and vulnerable unit of the family.
One participant remarked that no one else sees or cares for the women as the team does.
The team has also been giving community-centered media training to women. A young girl, aged 21, who has never talked to any stranger in her life said, "through this training, I found the boldness and courage to talk to someone and share my views."
The past year has been a tough one for the team in Pakistan, especially when four members of the already lean team were affected by the virus. But the team continues to press forward so that many more, like the schoolgirls and women, can also be loved into freedom.
One lady exclaimed, "we were in darkness and our trainer brought us into the light".
Pakistan Demographics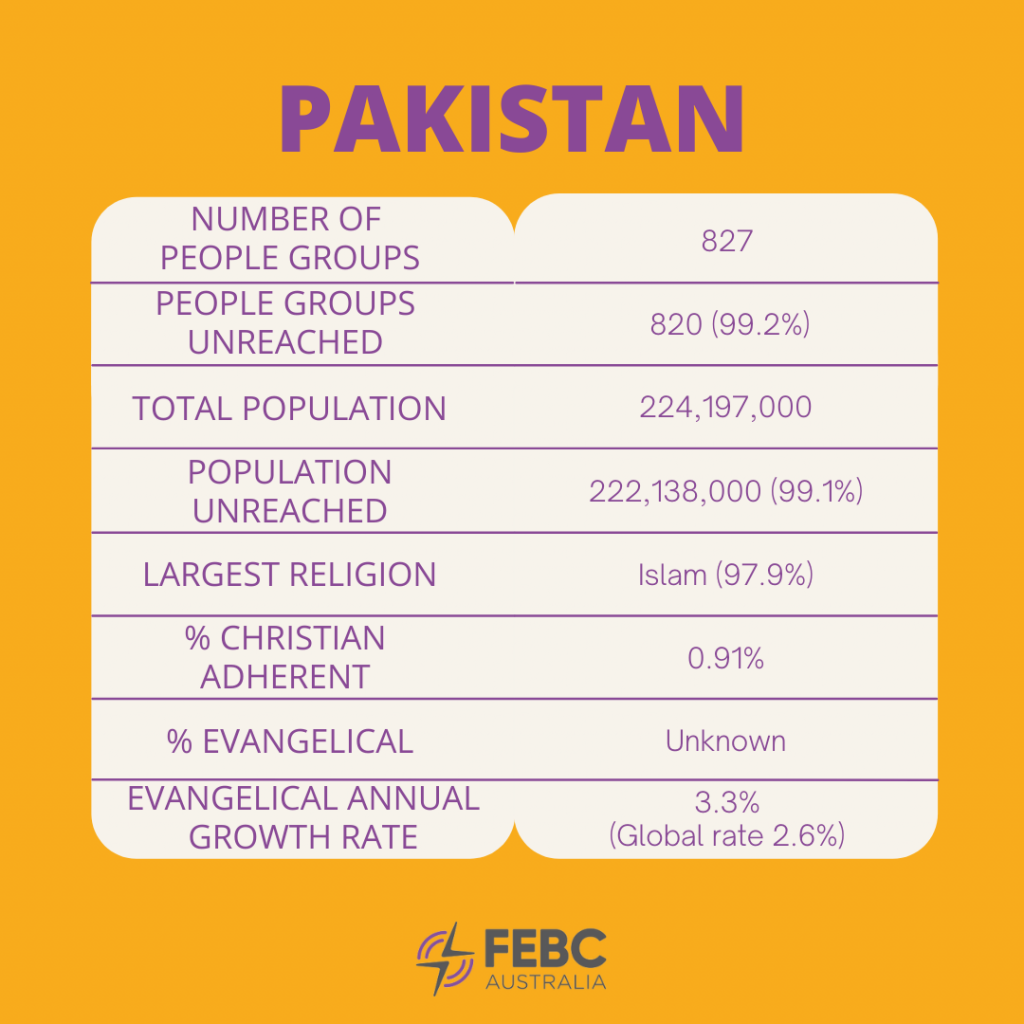 Partner with God through FEBC. Donate now.