FEBC Australia serves in partnership with Feba UK to support the ministry of FEBA India. We are encouraged to provide you with this shared update.
There is an alarming reason why being voted the number one country in the world is anything but good news for women living in India today.
Two years ago, India came top of a Thomson Reuters Foundation poll of the world's most dangerous country in which to be a woman (Afghanistan and Syria came in at numbers two and three respectively). When it comes to healthcare, sexual and domestic violence, trafficking, cultural traditions and discrimination, many Indian women face almost intolerable pressures. The COVID-19 pandemic and subsequent lockdown has exacerbated their vulnerability. In the first ten days alone, a helpline for victims of child abuse and domestic violence received 91,000 calls.
The problems are extreme, but in the context of violence, discrimination and disempowerment, FEBA India and their programs are reaching out to vulnerable women, offering friendship, compassion and empowerment. The West Bengal Women at Risk project fosters a sense of belonging and community through training local women on how to write and create content, and then record, edit and produce their own radio programs. There's a great demand for local radio content on these issues that is created for women, by women.  To have daily local programs and content from FEBA India is a great benefit to the women desperate for support.
Take Sayyeda's story. She lives in West Bengal and is a regular listener. Sayyeda works as the caretaker at a local school. One of the pupils was a victim of forced marriage. Her childhood was snatched away and tragically, she felt the only way out was to take her own life. Listening to FEBA India's radio programs, Sayyeda reflects that she didn't intervene when the girl was facing forced marriage. Every day, she sees her parents weeping and feels a deep sense of motivation to end such atrocities against children. Today, Sayyeda speaks out against child marriage and child labour and encourages people in her community to listen to our radio programs. Her actions have the power to save hundreds of young girls (and boys).
From devastation comes hope and we are blessed to share stories of how women are learning skills and developing their self-esteem. Our partners in India are doing amazing things. They go to the market, meet with local women and teach them how to make radio programs. They are giving women a voice that allows them to tell their own stories.
"Had I not heard your program, I would have ruined my daughter's future."
Photo caption: Giving women a voice to share their stories on radio.
"Had I not heard your program, I would have ruined my daughter's future."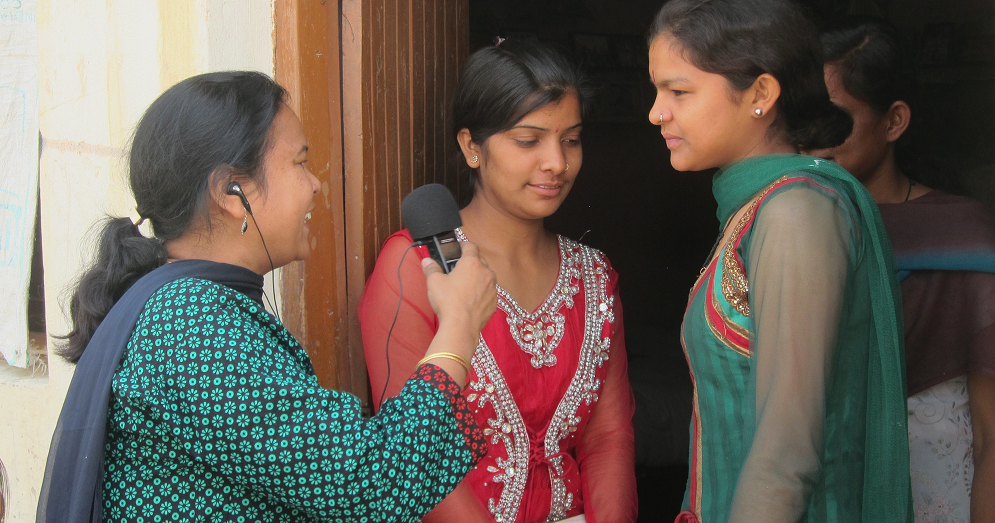 The mother of a young girl named Priya had always taught her daughter that marriage was her destiny and that education was not necessary for girls. One day, she listened to a story about a young girl who was deprived of her right to education and forced to marry at the age of 12. Her heart was stirred and she decided to send Priya to school, where she is now thriving. The family are so thankful to our program which was instrumental in changing their attitudes towards education for girls.
The FEBC India team is staffed by local Christians who understand the pressures many women face. Working with local partners and churches, they understand the language, background, worldview and culture of the region. Modelling the love of Christ to people on the margins of society through radio, they're sharing the kingdom and bringing hope and new life in Jesus to those who are considered less than nothing in their society. Together, they are bringing hope to thousands of the world's most vulnerable women, one program at a time.